WOODHAUS
Pickup or dine in.
Wednesday-Saturday: 4-9 pm.
Sunday 12-5 PM.
The best pizza, sauces, salads, craft beer, & wine.
We thrive in our love for cooking the best Neapolitan-style pizza, sauces, and salads! Made from scratch using only fresh ingredients, our famous wood-fired pizzas are best enjoyed with local craft beer and small-batch wine alongside good friends and family.
The Woodhaus experience starts at our laid-back restaurant located in beautiful Yucaipa, CA. From the moment you arrive, that delicious pizza aroma will beckon you to walk through our doors...
The tastiest pizzas in town are born in our wood-burning oven. We use a handmade 72-hour ferment dough, premium cheese blend. There is something for everyone, vegetarians and meat-eaters alike.
Made fresh to order, ready to tantalize your taste buds.
Our menu features a selection of tasty snacks like roasted veggies, home-fired pita, and olives -- the perfect snack! Or take a walk on the wild side with one of our seasonally-inspired (and rotating) salads. Each salad is prepared with  fresh local ingredients like kale, arugula, and mozzarella cheese.
Add an extra layer of flavor to your pizza, veggies, or salad with one of our famous, mouth-watering, made-from-scratch sauces.
Go on, give 'em a taste. You won't regret it...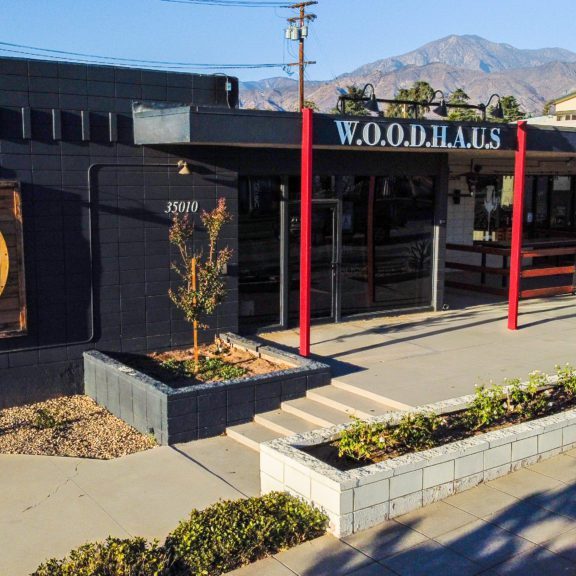 Come see why our customers consider us their only go-to pizza places in Yucaipa town!
Our pizza restaurant is open for takeout and indoor dining. We also take online orders or call-in for pick-up AND delivery to Uptown Wine Merchant!
Woodhaus invites one and all to enjoy our Neapolitan-style pizzas. Made with fire and passion by food, beer, and wine lovers with over 30 years of expertise.
Come with your friends and family. We welcome you to eat, drink, and enjoy life at Woodhaus.
Find the tastiest pizza in town, only at Yucaipa Blvd.
Reviews Fresh From The Oven
Our reviews are as hot as our pizza!
We appreciate all the love our customers give us. In return, we promise to only deliver the best food and prepare it using only the best ingredients. Always.
See what Yucaipa, CA has to say about us.
Alex Markovich
2 weeks ago
We had a lovely experience here! We sat down & enjoyed the nice weather, delicious food, great drink & warm staff. We will definitely be coming back.
Aaron R.
4 months ago
YUMMMM!!! i i live pizza and was probably going to end up going to pizza hut ... but then i started checking for local pizza places and woodhaus caught my...
Geoffrey U.
a month ago
Mushroom pizza was a little on the salty side but super tasty. Good selection of top notch beers. Love the atmosphere of the spot
citroenguy
3 months ago
Like wood fired pizza? Go here. Chill, good food. Salads are good if that is your thing.
Adrian M.
3 months ago
Absolutely the BEST pizza in town. We ordered all the pizzas on the with the exception of the Buffalo pizza. The pepperoni and the mushroom pizzas were my...
Woodhaus' Hours
Any and all are welcome to eat our delicious wood-fired pizza on:
Wednesday to Saturday from 4-9 pm
Sundays from 12-5 pm
You can also take the Woodhaus experience to your home. Order online or phone-call (909) 570-9572 for a pick-up or delivery to Uptown Wine Merchant.
Are you more of a message type of person? Contact us via email at [email protected] or send us a message through Facebook or Instagram.
We are happy to help you with your meal!
Find Us at Yucaipa Blvd
You can find the most chill place in all California to eat fresh Neapolitan-style pizza at:
35010 Yucaipa Blvd
Yucaipa, CA 92399